Cherokee Casino Review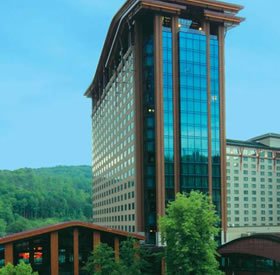 At 777 Casino Dr., Cherokee, NC 28719, United States, is the brick and mortar waging establishment that's considered to be the largest in all of North Carolina - the Harrah's Cherokee Casino Hotel. Though gambling is evidently and unquestionably restrained in this state, there are still exceptions to it and one of them is this prestigious and exceptional establishment owned by the Cherokee Indian Tribe. If you're planning to include this one in your itinerary during your trip to this phenomenal state, then you'll surely find this Cherokee Casino Review to be undeniably helpful.
The eye-catching and pristine structure of the Harrah's Cherokee Establishment is surely an eye-candy that will capture your attention and take your breath away right from the get-go. Staying at this luxurious hotel is surely a great choice while in North Carolina as it hosts over 1,200 rooms that's available for reservation. There are even suites in exclusion from this 1,200 rooms along with different towers such as the Soco and Creek Tower that fits the whole place together like a puzzle.
Cherokee Casino Reviews will surely not miss to imply that the interior of the establishment is nothing short of spectacular. This is especially because it oozes with a unique vibe that just screams the Cherokee Culture which has been one of the reasons why some visitors love the place. Rooms are also incredibly spacious and are integrated with cutting-edge technologies that will just complete your experience in this hotel. The views on higher floors are also breathtaking and it's definitely something that high-rollers and average-rollers alike should see.
The casino sector of the establishment itself is booming with lots of activities as it presents nothing short of what you'd expect from a land-based waging establishment. You'll be able to experience a Las Vegas-like experience all in the premise of North Carolina that's infused with the ethnic vibe of the Cherokee. Not to mention, they also have over 10 restaurants established in the hotel from the gargantuan Brio Tuscan Grille, up to buffets, Johnny Rockets, Steak houses and more.
They also have other amenities that makes it more worth it to stay at the establishment such as their golf course, indoor pool, fitness center and more. It is also very easy to make reservations through their telephone numbers and you can even visit their website for more information about them. Though some guests may have been bummed due to the reeking tobacco and smoke over the place, countless visitors exclaimed that this is certainly a place worth going to over and over again.